ESRS - European Sustainability Reporting Standards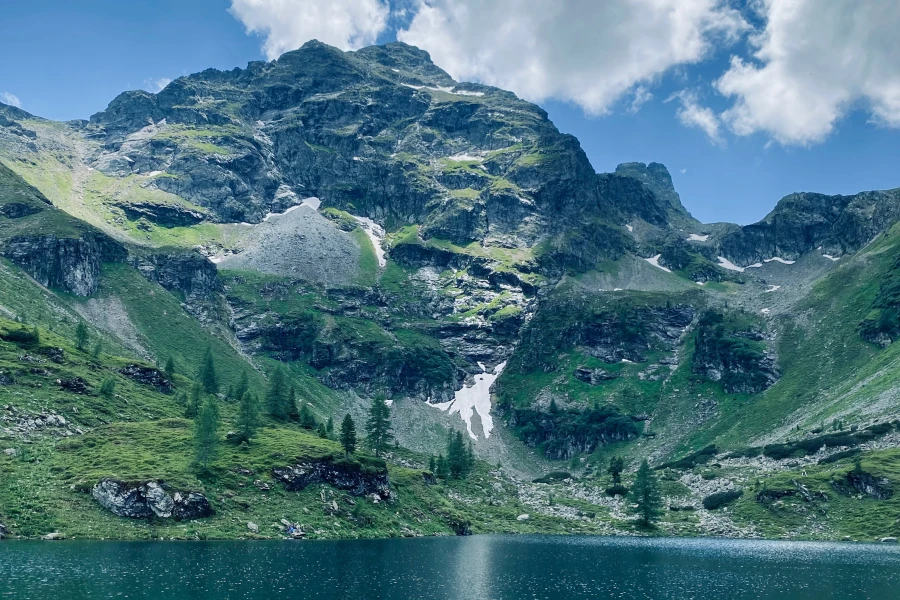 The Corporate Sustainability Reporting Directive (CSRD) requires large corporations in the EU and publicly traded companies to apply the European Sustainability Reporting Standards (ESRS).
Based on a materiality analysis of your company's business activities, the scope of reporting is limited to the areas of your environmental impacts and risks that are material to you. The materiality analysis thus determines which chapters of the European Sustainability Reporting Standards (ESRS) your company must include in the sustainability report.
What are the ESRS and what purpose do they serve?
The European Sustainability Reporting Standards (ESRS) were developed to ensure consistency and standardization of sustainability reporting in the EU, which will become mandatory for large corporations through the CSRD from 2024. The CSRD directive makes the sustainability report part of the management report and it must be externally audited. The quality requirements, the reporting period, the materiality analysis and other formal requirements are described in ESRS 1 - General Requirements.
When do the ESRS come into force?
The European Commission has been empowered by the CSRD to issue delegated regulations, the ESRS. The ESRS were developed by the European Financial Reporting Advisory Group (EFRAG) and first published in draft form in November 2022. Following consultations with other EU bodies and industry associations, the ESRS were substantially revised and finally published in July 2023. Provided the European Parliament raises no further objections, they will enter into force on January 1, 2024.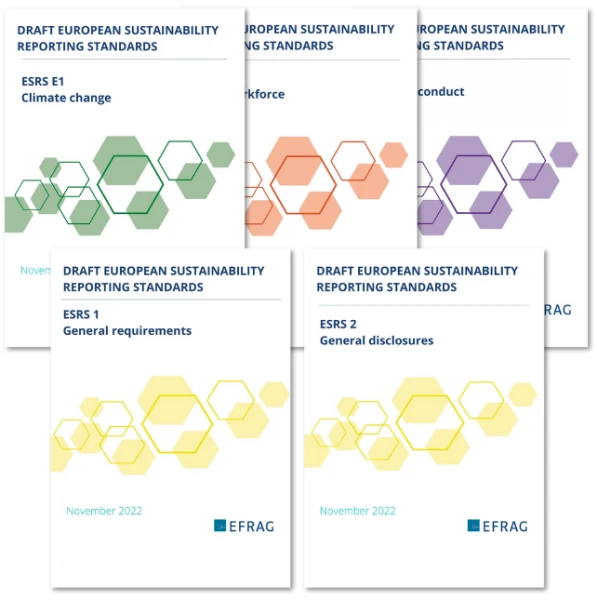 How are the ESRS structured?
There are two cross-divisional European Sustainability Reporting Standards (ESRS) and ten thematic, industry-independent ESRS standards.
Cross-domain standards ESRS 1 and ESRS 2
The cross-cutting ESRS standards ESRS 1 and ESRS 2 cover the formal requirements and mandatory disclosures on the business model, environmental strategy, corporate governance, reporting period, materiality analysis and other reporting requirements.
Thematic ESRS standards
The 10 thematic ESRS standards are divided into the areas of environment, social affairs and governance. The materiality analysis determines which of the ESR standards are reportable for your company.
Environmental standards:
ESRS E1 - Climate change (including greenhouse gas reporting)

ESRS E2 - Pollution

ESRS E3 - Water and marine resources

ESRS E4 - Biodiversity and ecosystems

ESRS E5 - Circular economy
Social standards:
ESRS S1 - Own workforce

ESRS S2 - Workers in the value chain

ESRS S3 - Affected communities

ESRS S4 - Consumers and end users
Governance standard:
ESRS G1 - Business conduct
What are the reporting requirements of a thematic ESRS standard?
The thematic ESRS standards are essentially based on three pillars. First, general disclosures must be made that include the management approach to corporate strategy and governance. This includes, for example, the publication of a decarbonization pathway that is in line with the 1.5° Paris target.
The second pillar consists of information on managing impacts, risks and opportunities. How does your company manage environmental risks and what are the risks in your value chain and business model? This information needs to be linked to financial information on the expected impact on your CapEx and Opex.
Finally, information on various metrics and targets must be provided in each ESRS. For example, for ESRS E1 - Climate Change, this includes absolute greenhouse gas emissions, absolute energy consumption, or energy mix.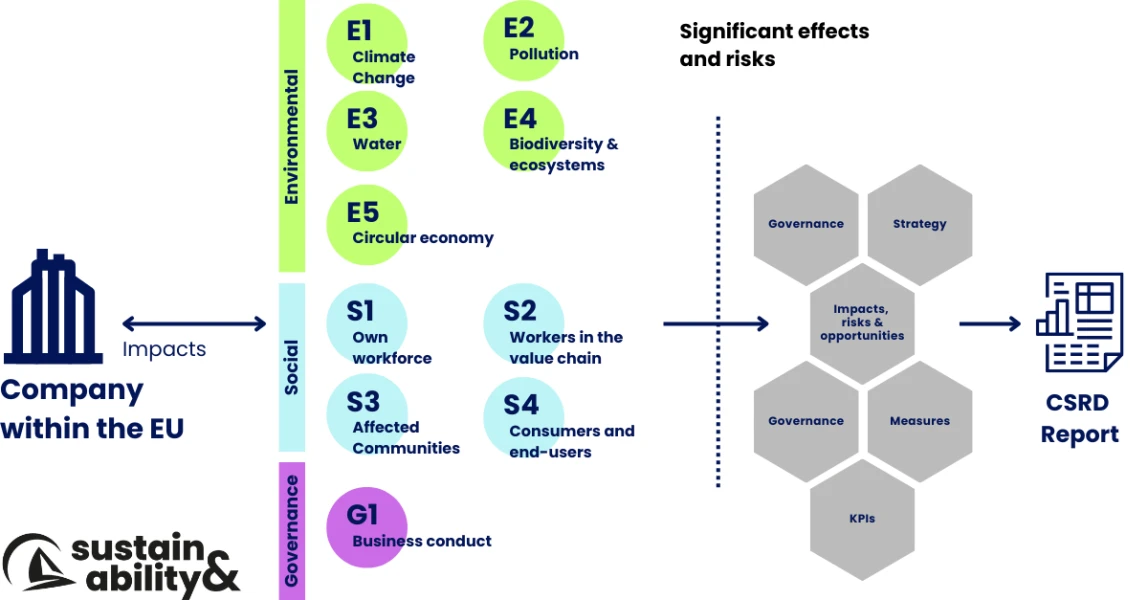 Which ESRS standards your company must report on - dual materiality.
The materiality analysis narrows down what your company must report on and is divided into two perspectives:
Inside-Out ("Impact Materiality"): What is your company's potential positive or negative impact on the environment or society?

Outside-in ("Financial Materiality"): What opportunities or risks does the environment or society pose for your company, also with regard to future developments?
How can Sustainability& help you?
Together with you, we go through the requirements of the materiality analysis step by step and record your environmental impacts and risks. We evaluate the results of your materiality analysis and work out with you in which areas you need to collect further key figures. Based on a gap analysis, we identify the next steps towards a sustainability report and create a roadmap for CSRD compliance.